Fisher Hardrock Pro Gold Prospecting Kit + 2 Books
150.00€ Συμπεριλαμβάνεται ο Φ.Π.Α
Fisher Hardrock Pro Gold Prospecting Kit. Dishes for natural gold prospecting with many accessories.
Description
GIFTS: 2 BOOKS VALUE 70€ + FLASHLIGHT AND GLOVES. TOTAL VALUE 115€
FLASHLIGHT
GLOVES
Hidden treasure exist …
ROCKWRITINGS
SIGNS
MAPS
TREASURE STORIES
In this book entitled Hidden Treasures "EXIST" Cleanthes Samaras presents responsibly, great taste, with new (unpublished) original blueprints, recent photos of signs and first classified all the gold and silver coins in circulation during the Ottoman empire with their approximate values.
In this book stand out narratives, the true stories and different layouts to hide treasures from guerillas – fighters in the Ottoman empire.
PolatidisTimi book: 24 €
With each Fisher Fisher Hardrock Pro metal detector purchase you get the new book of Kleanthes Samara's entitled: ΡΑΒΔΟΣΚΟΠΙΑ ΕΚΚΡΕΜΟΣΚΟΠΙΑ ΟΡΥΚΤΑ ΜΕΤΑΛΛΕΥΜΑΤΑ ΧΡΥΣΟΥ ΑΡΓΥΡΟΥ ΧΑΛΚΟΥ .
Such a book is missing from the market, those who read it felt admiration and the urgent need to complement the library every researcher, a really valuable guide.
VALUE 46€.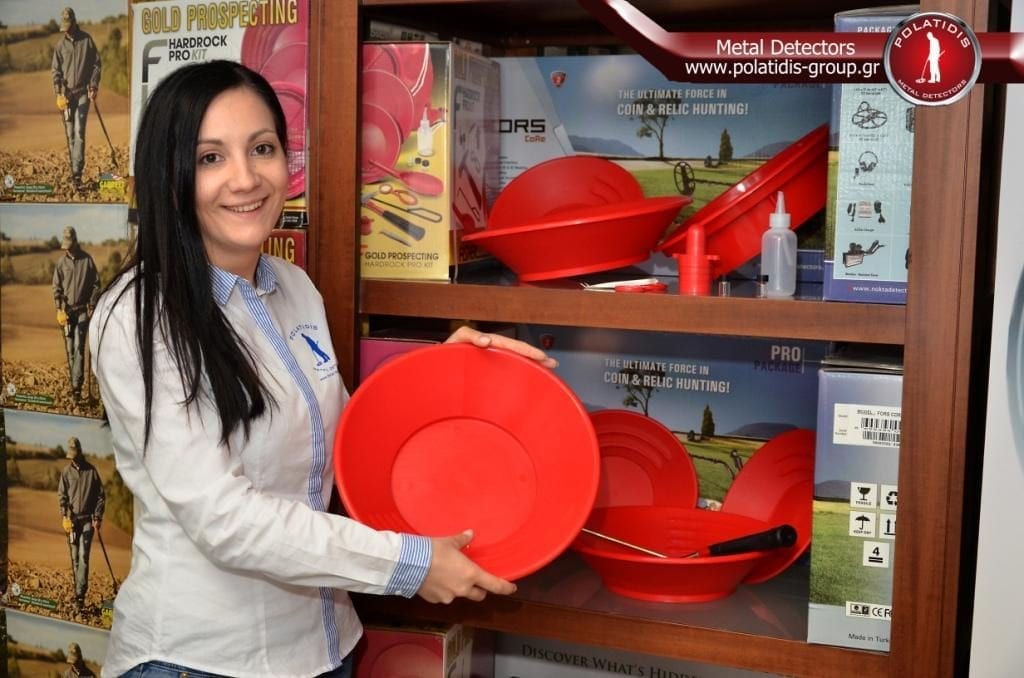 Fisher Hardrock Pro Gold Prospecting Kit Includes:
10 ½" Gold Pan (Made in the USA)
14" Gold Pan (Made in the USA)
Classifier (Made in the USA)
Two 1oz Shatterproof Vials
Snuffer Bottle
Top Hat Black Sand Magnet
Treasure Scoop
Drawstring Bag
Precision Tweezers
Magnifier
Crevice Tool
Rock Pick
Gold Prospecting Panning Guide
Only logged in customers who have purchased this product may leave a review.