Description

FEATURES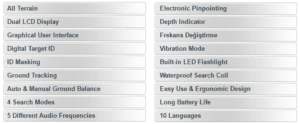 FORS CoRe, with its features, design, and accessories, is a professional metal detector developed with an advanced technology and is the perfect choice for coin and relic hunting.
Thanks to it different search modes, ID Masking feature and advanced settings which minimize the effects of highly mineralized soils and hot rocks, FORS CoRe will find coins and relics that other detectors miss at unmatched depths.
FORS CoRe is not only the ultimate force in coin and relic hunting but it is the ultimate metal detector you will ever want to purchase.
ALL TERRAIN
FORS CoRe is an all terrain detector that you can easily use on beach, mineralized ground, and rocky areas which are problematic for most detectors. FORS CoRe, thanks to its waterproof search coils and advanced settings, works flawlessly on all terrains without sacrificing its high performance.
4 SEARCH MODES
Genel Search (GEN)
Sometimes referred to as the "All Metal" mode, this is the deepest mode of the device. Different than the other modes, this mode has a constant threshold sound in the background. You can search deeper by listening to the variations in this sound.
Discrimination (DI2)
This is the 2-tone mode and it is the deepest one among the discrimination modes. It minimizes the effects of high mineralization and provides more detection depth.
Discrimination (DI3)
This is the 3-tone discrimination mode. This mode is ideal to use in fields with different types of metals enabling you to search faster with audio discrimination.
Conductive Ground (COG)
This is the special mode of FORS CoRe developed for conductive ground (wet beach sand, alkali soils etc.) What is special about this mode is that it will not respond to ferrous targets and the device will ground balance easily on all types of ground.
GROUND TRACKING
Along with automatic and manual ground balancing, FORS CoRe also offers ground tracking which tracks the changes in ground and automatically adjusts the ground balance to suit. The visible or invisible changes in ground affects the detection depth as well as the discrimination ability of the device so you can improve the performance of the device by activating this feature on suitable ground.
DIGITAL TARGET ID – ID MASKING
When FORS CoRe detects a target, it displays the target ID on the screen and gives you an idea about what the target may be. ID Masking, on the other hand, enables you to search by ignoring unwanted targets. It provides ease of use by rejecting hot rocks and metals such as iron and foil.
DUAL LCD DISPLAY AND GRAPHICAL USER INTERFACE
FORS CoRe has 2 LCD displays – one on the system box and one on the handle. Dual LCD display and graphical user interface let you easily adjust the settings and see all the information you need on the screens. Once you adjust your settings on the LCD panel located on the system box, you can follow most of the information on the display in the front. This way you don't need to go back and check the LCD panel constantly. This provides great comfort during searching.
ELECTRONIC PINPOINTING AND DEPTH INDICATOR
With FORS CoRe, you can easily pinpoint a target with just the push of a button. As the target is approached in the pinpoint mode, the signal tone will get stronger and change in pitch and at the same time, the depth reading will appear on both screens. Pinpoint feature will save you digging time and enable you to reach your target faster.

VIBRATION MODE
Designed with the hearing impaired in mind, FORS CoRe achieved a first with the vibration feature. Vibration feature is also ideal for users who do not want to use headphones in outdoor noise such as wind or waves.
BUILT-IN FLASHLIGHT

FORS CoRe built-in flashlight offers great convenience by illuminating the scan area when searching at night or in dark. You will not need an external illumination device.
EASY USE AND ERGONOMIC DESIGN
FORS CoRe is impressing not only with its electronics and software, but with its ease of use and ergonomic design as well. With its easy access settings, its widest scan design and its ergonomics which will not exhaust you during prolonged searches, FORS CoRe is an indispensable detector for all detectorists.
LONG BATTERY LIFE
FORS CoRe works with 4 AA Alkaline batteries that can easily be purchased anywhere and provides approximately 25-30 hours of use. You can also purchase the optional rechargeable batteries and the charger and charge your batteries at home or in your car.
10 LANGUAGES

FORS CoRe is an international detector offering worldwide use with its 10 language options. Once you select the language in the menu, the device will start in the language you have selected after you turn off and on the device.
WITH GREEK MENU! AND ISSY TO USE!
PACKAGE CONTENTS:
1 – System Box
2 – FC29 Waterproof DD Search Coil (28.5×18 cm (11″x7″))
3 – Headphones
4 – 4 AA Alkaline Batteries
5 – User Manual & DVD


Only logged in customers who have purchased this product may leave a review.